Search and Rescue - Newquay SAR Base
This page displays the locations of the SAR Helicopters if transmitting AIS data, otherwise shown at base
Locations Updated every 2 minutes, Please refresh page
NOTE
SAR Base approximate position, update when new images from google maps.
Newquay Airport - Search and Rescue Base
A new era for the UKs search and rescue (SAR) helicopter operations began January 1, 2016, when the Newquay SAR base commenced operations, bringing military involvement to an end from RNAS Culdrose. Bristow Helicopters Ltd is operating the search and rescue helicopter service for the UK on behalf of HM Coastguard.
The UK limited company was awarded the ten-year UK SAR contract by the Department for Transport in March 2013, representing a 1.9bn Pound investment by the Government in the UKs search and rescue helicopter service.
By 2017 the service will be delivered from ten bases in all, strategically located close to areas of high SAR incident rates.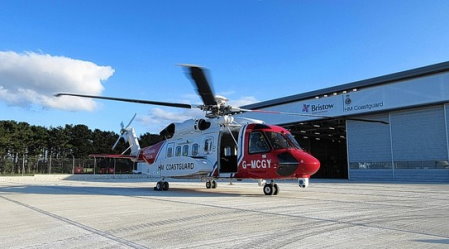 Sikorsky S-92, Some Facts
Sikorsky S-92 The S-92 helicopter is the most advanced aircraft in Sikorsky's
civil product line, with the necessary speed, capacity and operational
range to meet the needs of the UK search and rescue environment.
Bristows S-92 SAR aircraft are certified for night vision goggles (NVG).
Air Speed: 145 knots
Flight crew: 4
Capacity: 21 persons or as required
Endurance: over 4 hours
Twin hoist
Comprehensive medical suite
Icing protection


There are 2 S-92 helicopters based at Newquay
Search and Rescue Helicopters
Last Update
25 February 2018 19:26:03. GMT
MMSI
111232526
111232528
LATITUDE
50.44388
50.44388
LONGITUDE
-4.9937
-4.9943
SPEED (kts) / COG
--- / ---
--- / ---
Message
No AIS Data RX,
shown at SAR Base
No AIS Data RX,
shown at SAR Base
Locations Updated every 2 minutes.
Map Legend
Newquay Airport - SAR Base
S-92A Search and Rescue Helicopter
RNLI Lifeboat - soon
Newquay Lifeboat location soon
Ongoing Project last script update 1/9/2017