UK Spaceport News
Jan 2018
Newquay Spaceport latest - Monday 15th Jan 2018 saw the second reading of the Space Industry Bill, the legislation that will allow a Spaceport to be built somewhere in Britain.

Bill passed in Parliament, the count down to decision day begins.
Feb 2017
Sad news, Brexit has put a spanner in the works, the Dept of Transport has indicated there is no timetable for the bill to be introduced.
June 2015
Newquay is now among three possible locations for the UK spaceport, the other two locations are Glasgow Prestwick and Llanbedr in Wales. We now have to wait for the publication of detailed technical specifications of the space port requirements later this year and then see if Cornwall council makes a bid.
3rd March 2015
The Government review concluded the Industry backs it's Spaceport plans. RAF Lossiemouth and Kinloss Barracks cannot be included for operational reasons. The good news is the vast majority of our regions scientific business community prefer a UK Spaceport at Newquay Airport, subject to certain conditions.
31st October 2014
A pilot was killed and another injured as Virgin Galactic's SpaceShipTwo space tourism craft crashed in the California desert. Sir Richard Branson has vowed to continue his space tourism venture despite the fatal crash of a Virgin Galactic rocket ship in the US.

Our thoughts at this moment are with the crew and family
----------------------------------------------------------------------------
Newquay Weather Station is proud to have supplied weather data for the consultation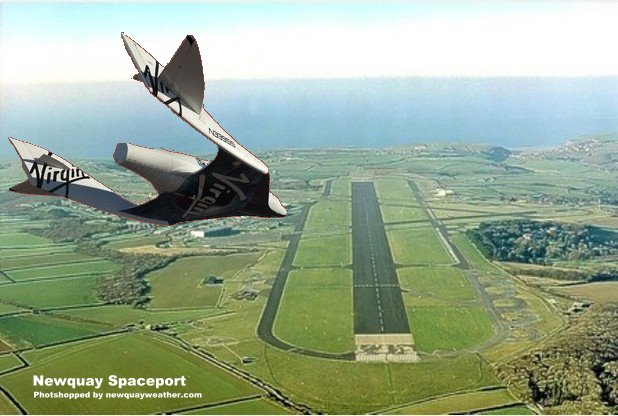 Photoshopped by admin, image does not imply any connection with Virgin Galactic for newquay
The plan is to build a spaceport at a remote site where regular airline traffic is low. The location also has to have a longer-than usual runway or room to build one. This is because after a hypersonic re-entry, spaceplanes will still be travelling at far greater speeds than standard planes and will need more room to land. Such requirements make either the north or north-east of Scotland a sensible location, away from the busy transatlantic air corridors.
In all, eight sites have been shortlisted by the UK Space Agency and were announced at Farnborough Air Show today (15/7/14) – six of which are in Scotland, 1 in Wales and Newquay Airport in Cornwall
Aviation minister Robert Goodwill said the sites to be assessed will be: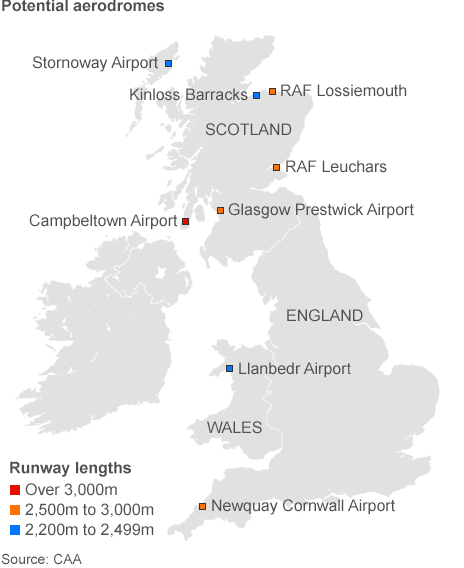 David Parker, head of the UK Space Agency said one aim is "to provide low-cost access to space and provide the person in the street with the chance to go to space". In a brief statement released ahead of tomorrow's announcement of potential sites, the UK Space Agency says: "A spaceport would open up the UK space tourism industry to specialist operators such as Virgin Galactic and XCor, but it also paves the way for future technologies that will help make Britain the place for space."
Virgin Galactic
and
XCor
are working on spaceplanes – orbital vehicles that land like regular planes. Virgin's SpaceShipTwo is a "captive carry" design lofted to an altitude of 10 kilometres by a jet plane, from where it fires its rocket motor and heads for suborbit. Flight tests are ongoing. Xcor's Lynx is a rocket plane that flies from the runway to space with no carrier aircraft – but it has yet to fly.
Being able to service such spacecraft with a British spaceport is crucial, says the UK Space Agency. "It will be the first spaceport of its kind outside the United States."
Goverments Spaceport: Locations and criteria, Open consultation
Supporting Newquay Spaceport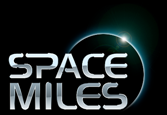 Updates
31/10/2014
Virgin Galactic's SpaceShipTwo space tourism craft crashed on a test flight in the California desert.
15/10/2014
Added www.spaceportnewquay.co.uk excellent site
Virgin Glactic has purchased the domain name
www.newquayspaceport.co.uk
which is linked to www.virgingalactic.com :
source newquayvoice, unconfirmed.
06/10/2014
Consultation period closed
04/9/2014
The Secretary of State for Business, Vince Cable, has welcomed a new £6 million investment at the Aerohub at Newquay Cornwall Airport, which could help create up to 750 new jobs.
17-1-2018
- Last page update